Top Digital Marketing Trends in 2023
Dubai is known for its forward-thinking approach and its willingness to embrace new technologies. As we move into 2023, the digital marketing landscape is evolving rapidly, and businesses need to keep up with the latest trends to stay ahead of the competition. Here are the top digital marketing trends to watch out for in Dubai in 2023.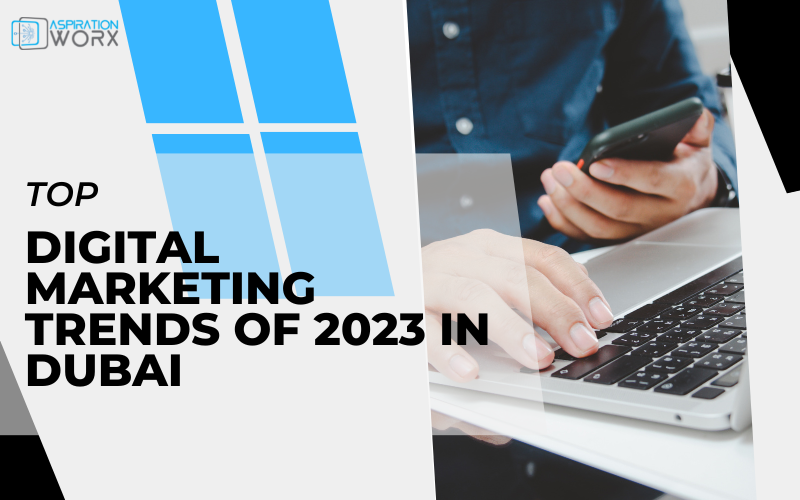 Artificial Intelligence (AI) and Machine Learning (ML) Will Dominate Digital Marketing
Artificial intelligence (AI) and machine learning (ML) have been making their way into various industries for several years, and 2023 will be no exception. In the digital marketing industry, AI and ML will play a more prominent role in delivering personalized experiences to customers. For example, chatbots powered by AI and ML can provide instant customer support, answer common questions, and even make product recommendations. Additionally, AI and ML algorithms can analyze customer data to improve ad targeting and make real-time bidding more efficient.
Personalization and Hyper-Targeted Advertising
One of the main benefits of AI and ML in digital marketing is the ability to deliver highly personalized content and hyper-targeted advertising. In 2023, we can expect to see more businesses leveraging these technologies to deliver customized experiences to customers. By analyzing customer data, businesses can create highly targeted ad campaigns that are more likely to convert. Additionally, personalized content can help to improve customer engagement and build brand loyalty.
Voice Search Optimization
Voice search is becoming increasingly popular, with more people using voice assistants like Siri, Alexa, and Google Assistant to search for information. In 2023, businesses will need to optimize their content for voice search to ensure that they are visible in search results. This means using long-tail keywords, creating content in a conversational tone, and ensuring that their website is optimized for mobile devices.
Augmented Reality (AR) and Virtual Reality (VR)
Augmented reality (AR) and virtual reality (VR) have been slowly making their way into the digital marketing industry, but in 2023, we can expect to see these technologies become more mainstream. AR and VR can be used to create immersive experiences for customers, such as virtual product demonstrations or interactive product catalogs. These technologies can also be used to create unique marketing campaigns that stand out from the competition.
Influencer Marketing Continues to Grow
Influencer marketing has been on the rise for several years, and in 2023, we can expect this trend to continue. Influencers have a large following on social media platforms like Instagram, TikTok, and YouTube, and they can help businesses to reach new audiences. In 2023, we can expect to see businesses partnering with influencers to create more authentic and engaging content that resonates with their target audience.
conclusion
2023 is set to be an exciting year for digital marketing in Dubai, with new technologies and trends emerging. By keeping up with these trends, businesses can stay ahead of the competition and deliver more personalized experiences to their customers.