Aspiration Worx Proud to be a 5-Star Digital Marketing Agency
Here at Aspiration Worx, we know it's taxing for any new company to juggle high-impact digital marketing with the heavy strains of a growing business. That's where we can help out! We're a digital marketing agency that provides seamless services in Dubai and across the globe. We're dedicated to leveraging unique and cutting-edge technology for our clients. We always take the time to learn and understand how to advertise for your business specifically.
With digital partnerships with global frontrunners like GoDaddy, Google, Ionos, and Facebook, our Google-certified team has experience working with clients around the world. We have a mix of digital marketing strategies and platforms that work to fill your most complex advertising objectives. That way, you can focus on other crucial growth operations.
We'd like to take this opportunity to thank our superb clients for letting us do what we love. They welcome us into their businesses and trust us with highly important marketing processes. In return, we've got the chance to hone and refine our skills in the field! It's our pleasure to serve our customers and optimize their systems.
One of our clients is a legal services provider. They needed a new marketing site, as well as Search Engine Optimization with keyword research. We work with them consistently on writing new content for their platform and working on their social media. As a result, they've seen an increased amount of site traffic and conversions. We were praised as attentive, flexible, and trustworthy! Take a look at the Clutch review they left us below: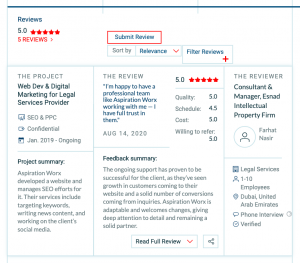 We love receiving client feedback. It helps us refine our services and identify key areas for deep improvement. We especially appreciate feedback in the form of Clutch reviews because of how thorough the process is. First, our clients were contacted by Clutch representatives and asked a series of questions about our performance in a 15-minute interview. Then, they grade our work on the basis of quality, attention to deadlines, pricing, and project management skills. Finally, those sentiments are transcribed and published to our Clutch profile in a written case-study format. We're happy to report we've earned a wonderful five out of five stars in reflection of that feedback!
The Manifest, a business data and how-to platform, is another place where you can learn about our services. You can search through past projects, and see how we stack up against our competition.
Interested in revolutionizing your business with cutting-edge digital marketing? Drop Aspiration Worx a line today!
Related Post:-